Giving
PHYSICAL
existence
to an idea or thought
through a
MOVEMENT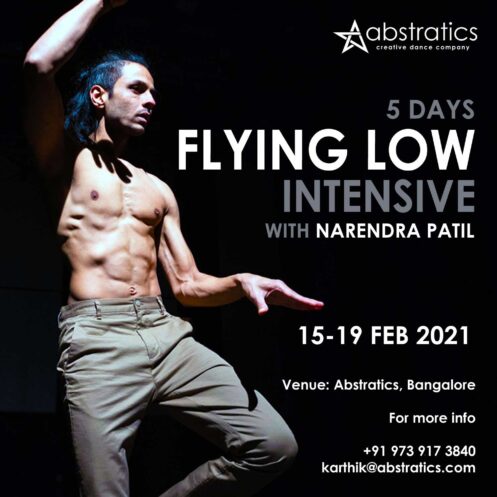 Flying Low Intensive with Narendra Patil
15-19 Feb 2021 at Abstratics, Bangalore
Narendra Patil will share a series of phrases and exercises which experiment on the flying low principles.
For more details, call/WhatsApp +919739173840 or karthik@abstratics.com
FINALLY!!! With all safety measures, we have resumed studio classes from
4th Jan 2021
.
All our classes are happening both offline & online.
For more details contact +919739173840 or karthik@abstratics.com
We are a Bengaluru based creative dance company founded in 2013 by Karthik Tantri with vision to experiment & experience innovative aspects of dance with technology, art & culture.
The teaching methods and choreography, employed at Abstratics are both known for their versatility and creativity. We challenge students in a positive way so that they are able to inculcate self-motivation to work towards developing their dance.
Increase your desire to learn and grow
Frequently Asked Questions
Answers to most common questions about classes, performances, fees and programs at Abstratics
Know more about our online classes
Turn your home into your own dance studio!
Abstratics is taking its classes online, and all classes will be streamed live, via Zoom.
We look forward to dancing with you from a distance!